Description
Why are digestive enzymes so important?
When we eat, our bodies don't absorb the food, it absorbs the nutrients. Food must be broken down to absorb essentials such as amino acids, fatty acids, fat cholesterol, simple sugars, vitamins, and minerals. There are many factors involved for those lacking the ability to adequately produce enough of these enzymes through the pancreas, small intestine, saliva glands and the stomach. With such cases, we can eat well and still not absorb the nutrition offered in an otherwise healthy diet.
What could cause these enzymes to stop working properly in the body?
The obvious causes would be disease.  This could include, but not limited to:
Pancreatic problems (cystic fibrosis, cancer, pancreatitis)
Celiac Disease
Crohn's
Other possible triggers, even in the absence of disease, include:
Stress
Low Stomach Acid
Aging
Low-grade Inflammation
Signs you might be having trouble with natural enzyme production:
Gas and bloating
Feeling like you aren't digesting your food (heavy sensation of food sitting in the stomach)
Floating stools
Undigested food in your stool
Undigested fat in the toilet (oily)
Super Enzymes are a comprehensive blend of enzymes that support healthy digestive functions. Bromelain, Ox Bile, Pancreatin and Papain have been formulated to optimize the breakdown of fats, carbohydrates and protein for maximum assimilation.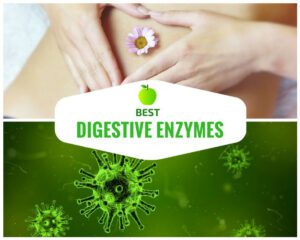 Suggested Use
As a dietary supplement, take 1-2 capsules with each meal. Begin with taking one capsule before your larger meals of the day (most don't need to use with small snacking). Assess after three days. If you did not experience relief from your symptoms, try two capsules before your meal. Consider taking these other products to assist with your digestive health and inflammation: Friendly Fighters® Probiotic and Flamasil®.