Description
Flamasil™
(for General Joint Pain, Arthritis, Gout, Body Inflammation, and Cellular Health)
— Are you aware that uncontrolled inflammation can lead to Heart Disease, Diabetes, and even Cancer?
— You must remove chronic inflammation from your life before the inflammation removes the life out of you!
Symptoms of chronic inflammation:
Chronic body aches and pains
Chronic Gout Condition
Arthritis (all)
General Joint pain and stiffness
Visible aging signs
Fatigue & Irritability
Indigestion/Acid Reflux
Frequent infections & Slow Healing
Blood Pressure and Cholesterol Problems
Bronchitis
Dry Eyes & Blurry Vision
Skin conditions (acne, psoriasis, etc.)
Weight changes/Obesity
Urinary tract infections
Candidiasis
Common conditions involving unhealthy inflammatory response include: Arthritis, Gout, IBS, Colitis, Diabetes, Psoriasis, Heart Disease, Asthma, COPD, Allergies, Alzheimer's, Cancer, and more.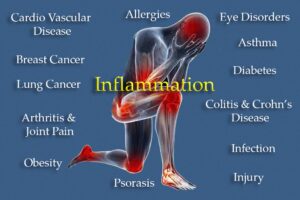 Inflammatory Connections: 
Arthritis/Osteoarthritis/Rheumatory/Lupus/Fibromyalgia/Gout/Undiagnosed Joint & Muscle Pain:
— Inflammatory cells called cytokines lead to the production of enzymes that attack the tissues and break down cartilage in joints.
— Inflammatory chemicals release TNF which make cells resistant to insulin.
Heart Disease/Stroke/Atherosclerosis:
— Inflammation causes artery clogging.
— Inflammation causes wrinkles.
Skin Disorders/Allergies:
— Inflammation that releases chemicals causing imbalances and healthy bacteria destruction. Results show in both internal and external reactions and heightened sensitivities on many levels.
— Inflammatory cells are found in abundance in either or both the large and small intestines producing results that could determine your symptoms and in turn your diagnosis.
— Both driven by inflammation of the lungs and airways. Asthma is typically the result of allergies (again still inflammation) and often referred to as a "rash" in the lungs. COPD is the result of long-term inflammation that has caused destruction actually plugging the airways.
— Chronic inflammation revs up the transportation of a protein known as amyloid beta protein into the brain leading to neurological damage.
— A multi-faceted link driving cancer initiation and promotion as a result of increased production of pro-inflammatory mediators that mediate tumor cell proliferation, transformation, metastasis, survival, invasion, angiogenesis, chemo-resistance and radio-resistance. These molecules are activated by a number of environmental and lifestyle-related factors, which together are thought to drive as much as 90% of all cancers.
All of the ingredients in Flamasil™ play an important role in regulating healthy inflammatory responses, gently cleansing, and curving an accelerated aging process.
With amazing ingredients like Turmeric BCM-95®, Artichoke Extract powder, Grape Seed Extract 95% OPC, Pine Bark Extract 95% OPC, Yucca, Aged Garlic, Milk Thistle Extract, Boron Citrate, GutBuddies Probiotic, Tart Cherry Extract, Resveratrol Extract, Banaba Leaf Extract, and Boswellia Extract we are successfully addressing virtually every aspect of the immune system. This is attained safely and naturally, without the burden of undesirable side effects associated with nearly all modern medicine choices.By combining Flamasil™ with a balanced diet and lifestyle, we are finally able to address a wide range of health issues. Chronic inflammation is at the heart of insulin resistance, hypertension, high cholesterol, fatigue, acid reflux, IBS, incessant joint and arthritic conditions, Alzheimer's, Cancer, and more.