Description
Research suggests that up to 85% of people could be deficient in vitamin D without knowing it…….Why does this matter?
Vitamin D is responsible for over 2,000 genes in your body. Every single cell and tissue require this crucial Vitamin for its well-being!
This high-quality formulation combines two nutrients extensively researched for their contribution to the health of bones, teeth and the cardiovascular system. Vitamin D3 promotes calcium transport and absorption. Recent studies indicate that vitamin D3 may play a role in proper insulin action and glucose metabolism and has an important function within the immune system. Vitamin K is critical for the formation of a healthy, strong bone matrix. Its role in arterial health revolves around its ability to support proper calcium metabolism in vascular structures. Vitamin K2 is a readily active and biologically available form of vitamin K.
Free Yourself from Vitamin D3 & K2 Deficiency for Better Health.
Many vitamins play an important role in keeping your body in peak condition. Vitamins D3 and K2 work together to boost the wellness of your teeth, bones, heart, and circulatory system, but they're often overlooked. These Vitamin D3 & K2 Vegetable Capsules help to correct this, providing 25 mcg of D3 as cholecalciferol and 45 mcg of K2. This provides a solid dose of high-quality nutrients to help maintain both bone health and cardiovascular condition in adults. These vitamins are offered in a highly absorbable form, so your body won't have any trouble accessing them. Delivered in capsules, they break down easily in the stomach and will get into your metabolism fast, with little chance of just getting passed by your digestive system.
Helps Calcium & Magnesium Bind into Bones for Proper Strengthening*

Boosts Heart & Overall Cardiovascular Well-Being*

Enhances Cognitive Sharpness & Function, Improves Mood*

Assists with the Correct Modulation of Insulin & Glucose*

Aids in Preventing Calcification in Soft Tissues when taking High Calcium*

Supports the Immune System*

Halal, Kosher, Vegetarian

GMP Certified, Cruelty-Free, Eco-Friendly & Non-GMO*


Gluten-Free, Egg-Free, Dairy-Free, Soy-Free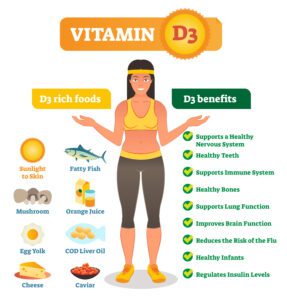 Recommended Use  
Adults: As a dietary supplement, take 1 Vege-cap 1 to 2 times daily with meals.  The AAP also recommends 400 IU/day of vitamin D for children and teens who drink less than a quart of vitamin D-fortified milk per day. The Vitamin D Council recommends that healthy adults take 2,000 IU of vitamin D daily — more if they get little or no sun exposure.
Note/Warning if taking blood thinners: 
Vitamin K use in Warfarin therapy is safe and may improve INR control, although a dosage adjustment is required. (National Library of Medicine: https://www.ncbi.nlm.nih.gov/pmc/articles/PMC5494092/
If you are taking Warfarin or any VKA blood thinner, be sure to talk to your doctor first before taking supplementary vitamin K or foods including a heavy amount of vitamin K.
How about other blood thinners? Outside VKAs, the other types of blood thinners (like Plavix, Brilinta, Eliquis, Heparin, or Aspirin) are not affected by vitamin K intake. This information about the connections between blood clotting, vitamin K, and blood thinners typically refers to vitamin K1 (phylloquinone), which is just one type of vitamin K. There's another type called vitamin K2 (menaquinone- in our product), touted to be beneficial for cardiovascular health. https://www.ncbi.nlm.nih.gov/pmc/articles/PMC5494092/