Description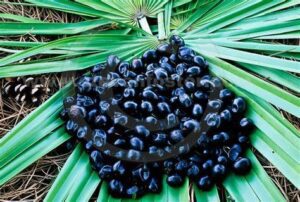 The use of saw palmetto and its unique berries has been around for some time.
Saw Palmetto is a plant that is indigenous to the Southeastern United States that possesses bioactive fatty acid and sterol constituents.*
It was an important food source for early settlers in Florida; early settlers that included Florida's native population of Miccosukee and Seminole Indian tribes.
And there's evidence that subsequent settlers, including the Spanish during the 16th century, used saw palmetto as a food source as well.
In 1879, Dr. J.B. Read of Savannah, Georgia, published one of the first papers (in a peer-reviewed journal) on saw palmetto's potential health-promoting uses based on his clinical experience.*
By age 60, 90% of American men may need extra support for prostate health.
Saw Palmetto berries have been found to:
Support your prostate health*
Help support urinary tract function*
Promote a healthy libido*
Benign enlargement of the prostate is a condition that affects millions of men, including well over 50% of men over age 60. While this condition is usually harmless, for some men it can hinder healthy urinary function and possibly lead to more serious side effects if ignored.
Fortunately, there is something that can be done to encourage healthy prostate function. Saw Palmetto delivers 160 mg of premium saw palmetto extract, and is naturally rich in bioflavonoids, sterols and fatty acids — all shown to help support optimal prostate health.*
Free of: sugar, salt, starch, yeast, wheat, gluten, corn, soy, milk, egg or preservatives.
**Standardized to contain between 85-95% fatty acids and biologically active sterol compounds.
Order your Saw Palmetto Extract today.